I membri ISAPS possono vedere le numerose tecniche innovative dell'Elastic Plastic Surgery
Fondata nel 1970, ISAPS è la più grande società internazionale di chirurgia plastica estetica del mondo ed è gemellata con AICPE e SICPRE.
I numerosi iscritti hanno la possibilità di vedere la video library che raccoglie le pubblicazioni video dei più rappresentativi chirurghi plastici estetici.
Nella sezione AE è stato appena pubblicato il video del dr. Capurro: Elastic Face and Neck lift and ancillary aesthetic procedures.
Dopo una breve descrizione tecnica della nuova sutura chirurgica elastica (Elasticum) e del nuovo ago (Jano needle), ideati dal dr. Capurro, il video mostra, con animazioni e risultati, i seguenti interventi sul volto e sul collo: Lifting elastico delle guance senza scollamento, MACS lift Elastico, lifting elastico del collo, liposuzione del doppio mento e contemporaneo lifting elastico del collo, lifting elastico del collo con le spille da balia, rinoplastica elastica, cantopessi elastica, lifting elastico delle sopracciglia e della regione temporale, lifting elastico delle sopracciglia e della regione temporale e contemporaneo Adipofilling, lifting elastico del labbro superiore, lifting elastico delle rughe della marionetta, lifting elastico del collo alto. Completano gli interventi con i fili elastici alcune tecniche ancillari: l'Adipolisi, che elimina i piccoli eccessi di grasso del volto e del collo e non richiede compressione post-operatoria; l'Adipofilling cellulare intradermico, che ringiovanisce la cute del collo, del volto ed elimina le piccole rughe delle labbra; i peeling timedchirurgici misti che eliminano le rughe profonde delle labbra, le rugosità delle palpebre inferiori e realizzano un'efficace blefaroplastica superiore non ablativa. L'Elastic Plastic Surgery è una sezione del Medical Video Journal open access Crpub.org che pubblica solo tecniche innovative. Ogni video ha una sezione FAQ, e, dopo una adeguata esperienza, una sezione POST-PUBLICATION REVIEW di cui si consiglia la lettura ai chirurghi.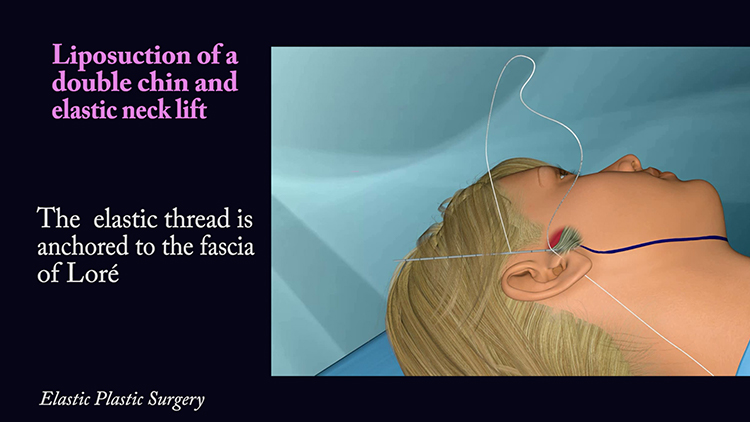 Liposuzione del doppio mento e contemporaneo lifting elastico del collo da una incisione di 8 mm